Why Attend?
More than 200 companies from China, India, and Brazil have participated in expo and the scope of the expo is involved with pesticide manufacturing, import and export trade, GLP lab, registration consulting, logistics and legal affairs etc.

The expo has become the most professional platform for trading communication for the agrochemical enterprises of China and even across the world to expand the markets of Brazil and South America, as well as the best channel in understanding the latest pesticide registration policies, markets, product information, new products and technologies in Brazil and South America.

Since the first expo held in 2005, an accumulative total of 250 enterprises with 350 booths have taken part in the expo. The professional forums and trading show arranged by the expo bring the latest policy trends, market information, help pesticide manufacturers and trade companies to exploit the markets in Brazil, South America and other overseas countries. In addition, it boost the development of the pesticide market of Brazil, which provides great safeguarding for the high yield of local agriculture.


About Fertilzer market---

The use of fertilizers is of fundamental importance for this yield increase, also due to the fact that most of Brazilian soils have acidic pH, which inhibits the absorption of nutrients from the soil by plants. Hence also the importance of the use of acidic correctives such as limestone that increase soil pH and, in addition to providing plant nutrients such as Ca and Mg.

Brazil imports 75% of the fertilizer consumption and is the 4th largest fertilizer consumer behind China, India and the United States. In 2017, fertilizer consumption was 34.439 million tons, up 1% from the previous year, with an average annual growth of 4%, compared to 2% of the global average.

As in the pesticide market, the fertilizer market (NPK) is highly concentrated, where four companies hold 80% of the market.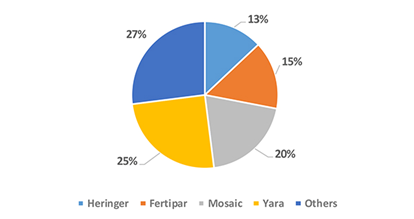 In the country's largest grain producing region, including soybean, the Cerrado, with more than 25 million hectares of cultivated land, micronutrient deficiency in soils (zinc, copper and manganese) is one of the limiting factors for increasing agricultural yields. Thus the proper use of micronutrients, mainly as in foliar application, becomes a highly efficient tool for grains, cereals as well as for vegetables and fruits.

Unlike the NPK fertilizer and pesticide markets, more than 700 players compete in the segment of crop nutrition which sales in 2017 reached US$ 2.2, a 23% increase over 2016 (based on Real, Brazilian local currency), equivalent to 4.8 million tons, mainly for soybeans, corn, fruits and vegetables.




(1) Foliar fertilizers, organic fertilizers, plant substract, soil remediator
(2) Real, Brazilian local currency
(3) Exchange rate conversion based on annual average dollar quotation
(4) Based on Real (Braziian local currency)

Attractive margins, same distribution channels and same end users, Syngenta, Copfield/Solus, FMC, ADAMA, traditional players of the pesticide industry are entering the plant nutrition sector.